Three Sisters Garden — How to Plant Corn, Squash & Beans Together
Companion planting is a useful gardening technique of growing certain veggies together to take advantage of their natural tendencies and relationships. This is an idea that has been practiced for centuries, and most famously with the "Three Sisters" method.
Companion Plants in the Three Sisters Method
The three sisters is a combination of these three plants working together:
"Sister Beans"–deposit nitrogen from the air into the soil, in a form that the plants can use.

Plant pole beans such as Blue Lake, Scarlet Runner, or Italian Snap, NOT bush beans.
The beans will use the corn as support, so wait to plant the beans until the corn is about knee high.

"Sister Corn"–provides support for beans vines to climb upon.

Plant your favorite sweet corn, dent corn, popcorn, or even a combination.

"Sister Squash"–shades the ground with its large leaves to provide a good growing environment for all the sisters.

Squash can be winter or summer types, or a combination of both.

Sometimes a fourth sister is included: either Sunflower or Bee Balm. This sister also supports the beans, lures birds away from the corn with their seeds and attracts insect pollinators.
How the Three Sisters Garden Works Together
Cornstalks act as a trellis for the beans (the plant's thin tendrils don't get in the way of the growing ears). The beans, like most legumes, have a quasi-magical ability to take nitrogen from the air, where it is abundant, and convert it into a soil-bound form that is useful to other plants. This process, known as nitrogen-fixation, is especially useful to corn, which requires large quantities of the nutrient. Lastly, squash plants grow low and wide around the corn and beans, their huge leaves carpeting the ground and preventing both weed growth and evaporation of soil moisture.
This traditional triad, popularly known as a three sisters planting, was central to the diet of many Native American tribes, who ascribed great cultural, even spiritual, significance to the relationship between the species. Modern-day nutritionists ascribe another significance: eaten together, corn and beans have all the amino acids of a complete protein, making an ideal vegetarian meal. The squash adds extra minerals and vitamins, plus a touch of sweetness.
Choosing the Right Varieties of the Three Sisters
Here are criteria for choosing varieties of each crop that are suitable for a three sisters garden:
Corn: Traditionally, grain corn was used (the kind you would use for cornbread or tortillas), but three sisters planting also works with sweet corn. One caveat: Some modern corn varieties are fairly short, which results in the stalks being overwhelmed by the bean vines, so be sure to pick a variety that matures to at least six feet in height, the taller the better.
Beans: Traditionally, the beans in a three sisters garden were the kind meant to be dried and stored for later use, but green beans for fresh eating are also an option. They must be "pole" beans (vine-type), however, as modern "bush" beans are incapable of climbing cornstalks.
Squash: The only requirement here is that you use a winter squash variety—butternut, acorn, delicata and the like—which grow on vines that spread across the ground (these ripen in autumn, but are called winter squash because their tough outer rind allows them to keep through the winter months). Summer squash varieties (such as crookneck and pattypan varieties) won't work because they grow in single clumps, rather than as a spreading groundcover.
How to Plant a Three Sisters Garden
There is no one right way to do a three sisters planting. Ultimately, you'll probably need a bit of trial and error over several seasons to perfect a process that works in your climate and with the particular varieties you want to use.
The key is coming up with the right spatial configuration and the right timing for sowing each type of seed. The steps below outline the general process and principles. Note that all three crops require warm weather and will shrivel up at the slightest sign of frost. Plant them only once you are certain the weather has warmed up for good.
1. Build a circular mound of soil about 5 feet in diameter, raking the top of it into a flat planting area with tapered sides (the finished bed should be at least 6 inches tall). Mix compost and soil amendments into the soil as needed.
2. Plant the corn first so it gets a head start. Sow the seed eight inches apart in a 3-foot diameter circle on top of the bed.
3. Once the cornstalks are 6 to 8 inches tall, plant the bean and squash seeds. The bean seeds go inside the circle of corn, with one seed planted about 3 inches from each cornstalk. The squash seeds go outside the circle of corn near the edge of the bed; the seeds should be about 12 inches from the closest cornstalks, but space these widely, with about 24 inches between each.
4. As the bean vines grow, direct them toward the nearest cornstalk; you can tie them to the stalk with a piece of twine to ensure they clamber upwards, rather than along the ground.
5. Build as many circular mounds as you like, but leave plenty of space between each one, as the squash will quickly spread beyond its bed to cover an area roughly 10 feet in diameter.
6. Keep the beds watered and weeded as needed.
7. The beans and corn will mature first. Step carefully among the squash vines to harvest them as they ripen.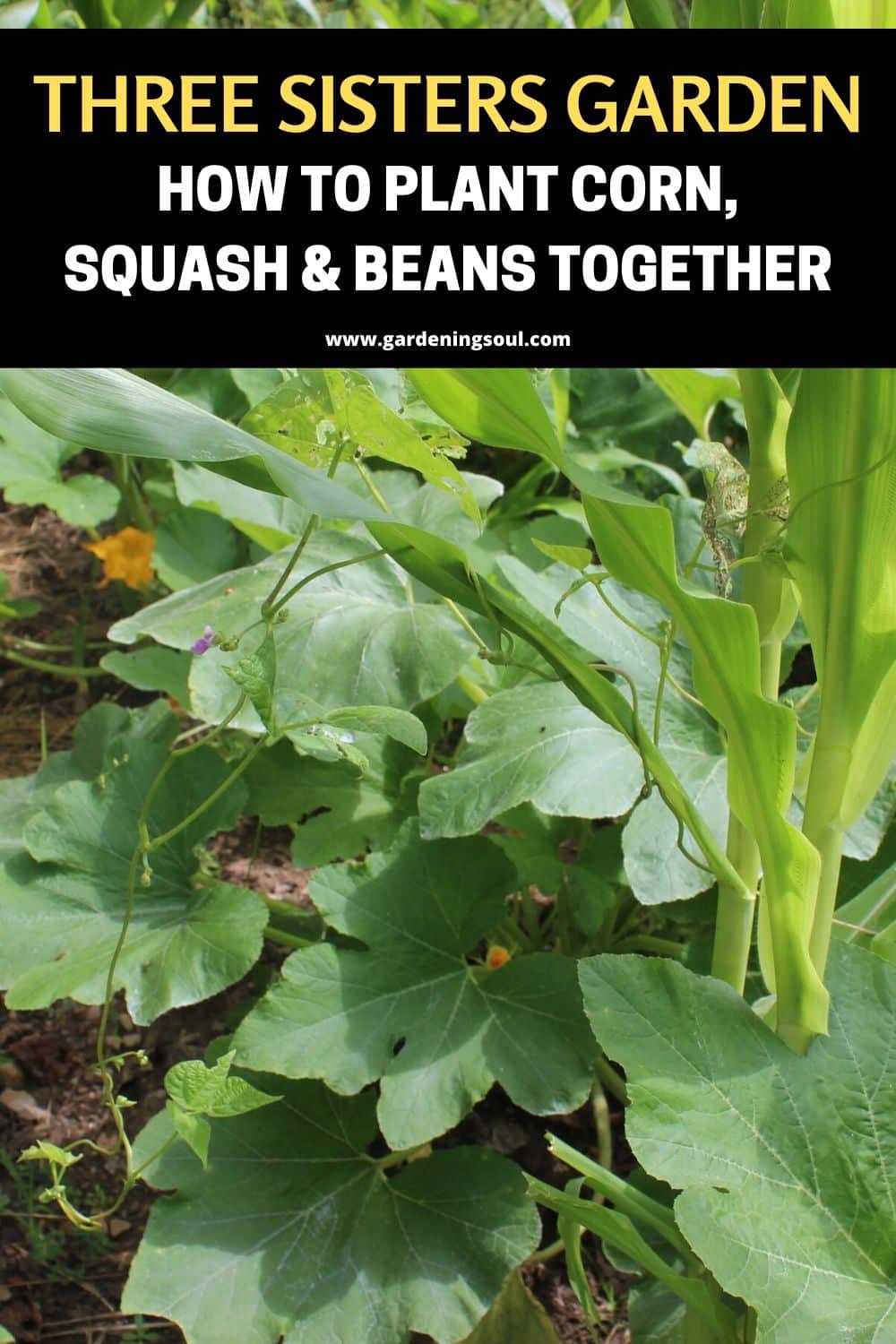 If you want to find more natural remedies, take a look at the Everyday Root Book!
With 350+ pages, you will be able to replace all of the toxic products and medications in your home with healthier, all-natural alternatives.
You will be confident in knowing exactly what is in the products your family uses and happy with the money you will save every month.
In addition, they offer you three more bonuses + 75% discount only this month!
Included in this life changing book are:
105+ NATURAL HOME REMEDIES – Treat almost any illness with natural ingredients you probably already have in your kitchen.
75+ NATURAL BEAUTY RECIPES -Get the best hair and skin you've ever had and look younger with these insanely clever natural beauty recipes.
35+ DYI HOUSEHOLD PRODUCTS & CLEANERS – Never Buy Toxic Cleaning products again! Save a fortune and your families health with these super simple homemade cleaning products that work better than the chemical ones.

Join our weekly newsletter
become greener in just 5 minutes
Join 925,000 others and start your day with the latest news from grow your own, propagating and harvesting plants, how to save money and how to be green.