A rooftop garden is not like any typical garden in your yard. However, it requires thorough research, proper planning and strong determination in order to achieve best results. So to guide you through it, here are some amazing and inspiring rooftop garden ideas to consider.
1. Modern Roof Garden Design
This design requires the use of sleek materials with a minimalist feel, leading to an organized and beautiful outdoor place.
2. Garden Lounge at the Rooftop
If you want to come up with a relaxing and cozy lounge on your own rooftop, then this beautiful garden lounge is a great inspiration.
3. Small Rooftop Garden
Amazing! To maximize the space, grow lots of dwarf trees and vine plants near the walls.
4. Plants As Privacy Fencing
It would be great to have some privacy while we relax at our rooftop garden, so an amazing idea is to plant flowers next to, or on the walls.
5. Stunning Rooftop Garden Patio
The wooden coffee table and chairs work perfectly with the lush green vegetation, right?
6. Rooftop Garden With Pond
If you are someone who loves to grow aquatic plants, then this idea is the best for you!
7. Topiary Garden at the Rooftop
These plants can be shaped to different eccentric shapes, making your garden look stunning!
8. Barbecue at the Rooftop Garden
Barbecue parties at the rooftop sounds like an awesome idea, isn't it?
9. Colorful Rooftop Garden Design
You can create a charming garden by planting colorful flowering plants that do well in sunlight as rooftop gardens usually get plenty of sunlight!
10. Cascading Rooftop Garden
This massive rooftop garden consists of shrubs, trees and flowers, and it looks absolutely perfect!
11. Japanese Rooftop Garden
A Japanese garden on your rooftop symbolizes calmness and purity. You can't go wrong if you are looking a place for relaxing and meditation.
12. Chic and Cozy Rooftop Garden
This modern and fashionable rooftop garden features unique furniture pieces that are both stylish and comfortable.
13. Rooftop Vegetable Garden
Growing vegetables in your rooftop is a great idea. Whether you grow your veggies in containers or pots, remember that you should water them regularly!
14. Rooftop Cactus Garden
The cactus looks amazing in a rooftop garden! Plus, it does not require lots of maintenance and care so it is perfect for those who can't provide it with constant care.
15. Dining at the Rooftop Garden
Dinner with your family or friends in your rooftop garden? Yes! You could invest on some beautiful outdoor lighting to make it more romantic at night.
16. Pool Garden At the Rooftop
Even if you have limited space in your rooftop, having a pool garden is really possible. Talk to the pool installation company and get this idea started!
17. Rooftop Garden With a Hammock
A stylish hammock can be the perfect place to relax after a stressful day!
18. Modern Rooftop Garden With Lights
The lights make it look dreamy, plus, it is perfect for a dinner or a barbecue at night!
19. Massive Rooftop Garden Design
Fill your roof with lots of greens and get creative in your massive rooftop garden!
20. Dwarf Conifer Trees in Containers
If you want a lush green garden in your rooftop, then this Japanese inspired rooftop garden is perfect for you!
21. Succulent Rooftop Garden
Succulents are among the most popular rooftop garden plants. Thus, they are easy to maintain and take care for! What are you waiting for?
22. Ornamental Grasses Rooftop Garden
Ornamental grasses are the perfect choice for both rooftop and terrace gardens.
23. Coffee Table and Chairs in a Rooftop Garden
to make your rooftop garden stand out, install wooden furniture in it to make it the place where you will come to relax, think, and drink your morning or afternoon coffee!
24. Sea view Rooftop Garden
To achieve this sea view look, invest on light colored furniture pieces.
25. Sheltered Rooftop Garden with Stairs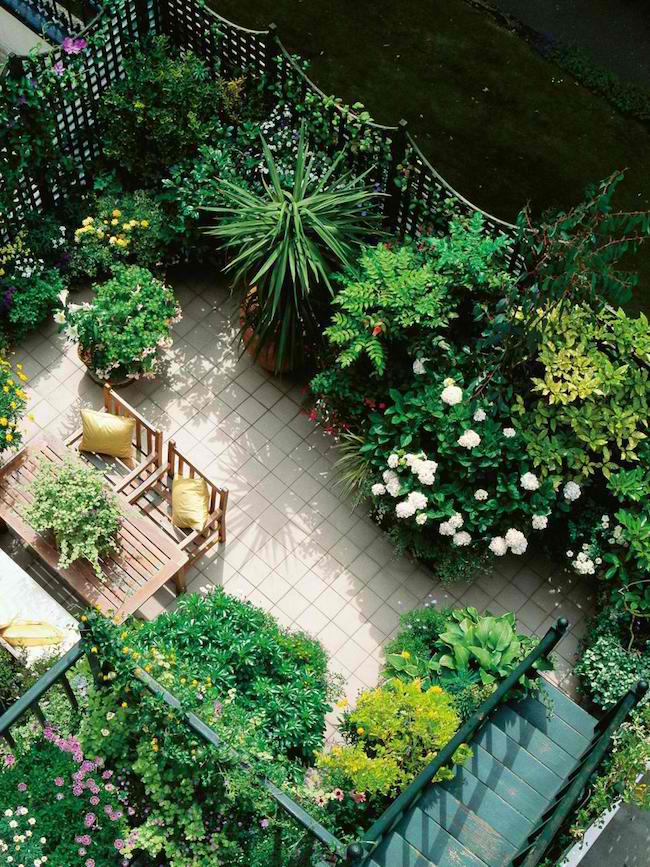 This idea was inspired from terrace gardens, however,  you can follow the same idea for your rooftop garden.
26. Open Slat Roofing in a Rooftop Garden
If you want your rooftop garden to be partially covered, then consider using open slat roofing.
27. Minimalist Rooftop Garden Design
If you want a simple but elegant look for your rooftop garden this one would be great for you.
28. Lush Green Rooftop Garden
Lush green vegetation is always a good idea! Not to mention, you can grow your own veggies here!
29. Recycled Tire Planters In a Rooftop Garden
Another creative and practical way to design your rooftop garden is with the use of recycled tires as planters.
30. Beautiful Hardwood Floors in Rooftop Garden
If you want your rooftop garden to look classy, consider the use of hardwood floors.
31. Colorful Art Installations in a Rooftop Garden
Colorful art installations would look perfect since they go against the green grasses and plants.
The process of building and creating a rooftop garden is not easy. You might need the help of professional landscape artists to help you achieve the look that you want. Otherwise, you can refer to the rooftop garden ideas above to come up with your own.
If you want to find more gardening How-to's, as well as tons of proven natural remedies, take a look at the Everyday Roots Book!
With 350+ pages, you will be able to replace all of the toxic products and medications in your home and garden with healthier, all-natural alternatives.
In this amazing book you will find eco-friendly, creatively frugal gardening tutorials, remedies & tips as well! You will be confident in knowing exactly what is in the products your family uses and happy with the money you will save every month.
In addition, they offer you three more bonuses + 75% discount only this month!
Included in this life changing book are:
105+ NATURAL HOME REMEDIES – Treat almost any illness with natural ingredients you probably already have in your kitchen.
75+ NATURAL BEAUTY RECIPES – Get the best hair and skin you've ever had and look younger with these insanely clever natural beauty recipes.
35+ DYI HOUSEHOLD PRODUCTS & CLEANERS – Never Buy Toxic Cleaning products again! Save a fortune and your families health with these super simple homemade cleaning products that work better than the chemical ones.
Official Website: EVERYDAYROOTSBOOK.COM