Most of the DIY flower tower ideas you see here are surprisingly easy to create on your own. They might look difficult, but you should be able to complete the task in just a few hours.
Even if you're not a limited space gardener, these DIY Flower Tower ideas are a perfect way to add a touch of drama to your home or garden!
1. Deceptively Simple and Gorgeous Flower Tower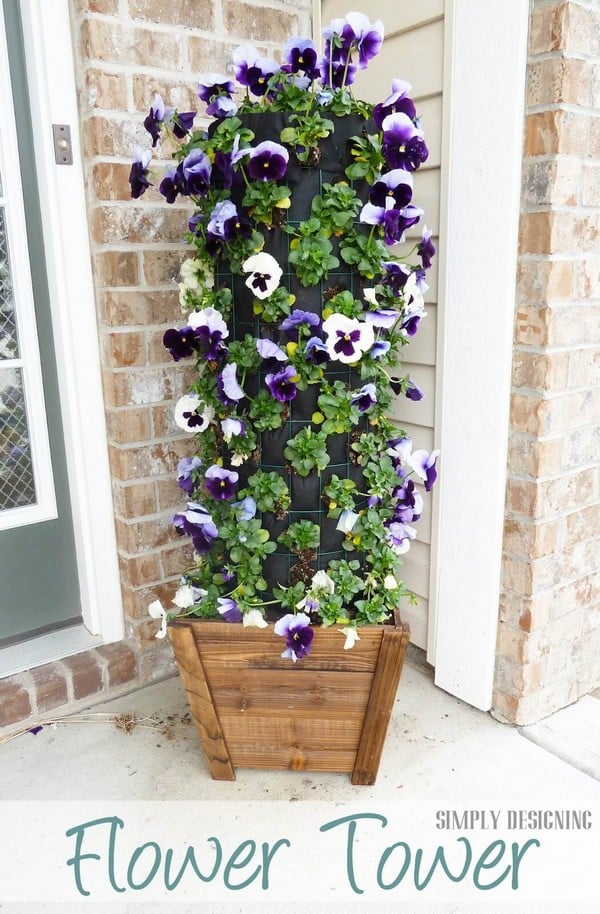 2. Beautiful House Number Display
3. Easy Toppling Tower of Flowers
4. Fancy File Cabinet Turned Flower Tower
5. Simple and Sweet Birdbath Tower
6. Tower with a Message
7. Delightfully Pretty Wooden Sunflower Pyramid
8. Vine-Free Wall of Flowers
9. Fanciful Fairy House Flower Tower
10. The Easiest DIY Flower Tower
11. Precarious Pots of Fabulous Flowers
12. Watering Can Waterfall Flower Tower
13. Crazy Polka Dotted Teetering Tower
14. Classic Flower Tower to Maximize Space
15. Welcoming Front Porch Flower Tower
If you want to find more Gardening How-To's, take a look at the Shoestring Gardener Book!
With 300+ pages, you will be able to replace all of the toxic products in your garden with hundreds of
eco-friendly, creatively frugal gardening tutorials, remedies & tips.
You will be confident in knowing exactly what is in the products your family uses and happy with the money you will save every month.
In addition, they offer you Frugal-minded Pricing Just for YOU!
Included in this life changing book are:
Grow Robust Organic Vitamin Rich Vegetables for a Healthier Diet
Dramatically Increase the Quality & Fertility of Your Garden Soil
Save Lots of Money on Garden Tools & Gadgets
DIY Garden Projects – Creative and Inventive Ideas
Cost Saving Methods and Techniques
Source: theartinlife.com